Wrens will nest anywhere as long as it's fully enclosed and protected. Wrens are also territorial and will destroy other neighboring nests to reduce competition.
A wren bird house would be one of the most commonly used bird houses because this species loves to nest in an enclosed and sheltered space.
If you have other songbirds in the area, be mindful of incorporating bird houses for wrens, as they can attempt to take over the area.
Whether you are looking to buy the perfect bird house or build one yourself for your local house wren population, we got you covered. So, keep reading!
---
Best Wren Bird Houses – Top 5 Comparison Table
Product Image

Product Name / Primary Rating / Pros

Primary Button

Entrance size designed for wrens

Comfortable and secure nesting environment

Audubon society approved

Entrance size and overall dimensions designed for wrens

Compact size

The Fir wood and the Dutch-style roof makes this the cutest bird house of them all

High quality cedar wood

Simple mounting on a tree

The use of cedar wood and the hanging design blend well with the outdoor environment

The copper portal helps deter predators

Side opening for easy cleaning

Multiple mounting options

Predator guards around the entrance hole

Good craftsmanship

Inclusion of built-in steps on the inside for fledglings
---
Our 5 Best Picks in Detail
1. Woodlink Audubon Going Green Wren House
Best Overall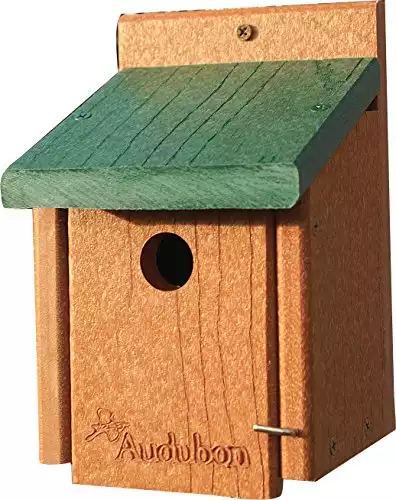 The Audubon Going Green Wren House is a birdhouse designed specifically for attracting wrens to your outdoor space. It is made by the National Audubon Society, a renowned conservation organization, and is part of their "Going Green" line of environmentally friendly birdhouses.
The birdhouse is made from eco-friendly, recycled plastic, sourced from milk jugs. The recycled plastic material is durable and weather-resistant.
The design and size of the entrance hole are specifically tailored to attract wrens, which are small, active, and charming songbirds known for their cheerful melodies. Also, the interior dimensions and features are suitable for wrens to build their nests and raise their young.
Pros
Birdwatchers and nature enthusiasts who specifically want to attract wrens to their outdoor spaces will find the tailored design of the entrance hole appealing
Comfortable and secure nesting environment
Approved by a well-known conservation organization (Audubon society)
Cons
Some users might prefer birdhouses made from natural materials, such as wood, rather than recycled plastic
---
2. Perky-Pet 50301 Wren Home Birdhouse
Best Design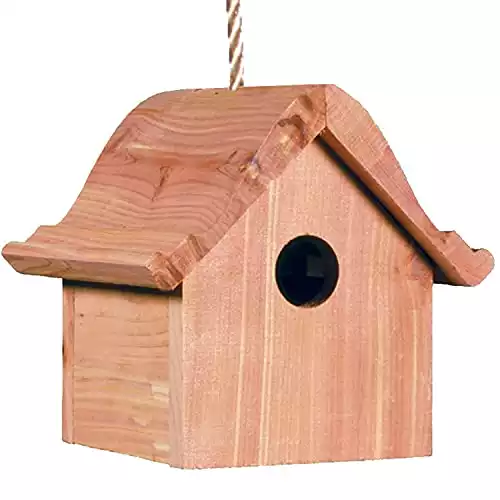 The bird house is made of weather-resistant Fir wood, ensuring its durability and longevity. It's specifically designed for wrens, with a 1.5-inch entrance hole that is suitable for these small songbirds.
The size of the hole is perfect for wrens to enter and exit comfortably while deterring larger bird species and predators. It comes with a removable side panel for convenient cleaning after the nesting season.
It also features a Dutch-style roof, which not only adds to its visual appeal but also provides protection from rain and other elements.
The birdhouse's compact size (6.5 inches tall) and hanging rope make it easy to place and move to different locations, providing users with the flexibility to observe Wrens in various settings.
Pros
The entrance hole size and overall dimensions are tailored to cater to the needs of wrens specifically
The compact size and hanging rope make it easy to move and place in different locations
The natural appearance of the Fir wood and the Dutch-style roof makes this the cutest birdhouse of them all
---
3. Nature's Way Cedar Wren House
Budget Pick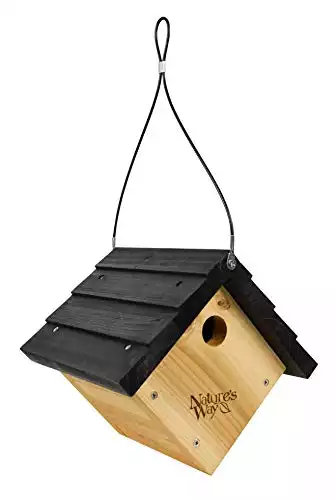 This option is crafted from natural cedar wood, which is rot-resistant and offers a classic, rustic look. Cedar wood's natural properties make the bird house resistant to weather conditions, ensuring its longevity and functionality throughout multiple seasons.
The bird house is designed with air vents through both the wall and floor openings, ensuring optimal air ventilation inside. Proper ventilation is essential for maintaining a healthy nesting environment for birds.
It features a 1 1/8″ entrance hole, which is specifically sized to keep out sparrows and larger birds. This targeted design ensures that the bird house attracts wrens and chickadees.
The hanging design allows for easy and convenient installation. Users can quickly erect the birdhouse on the limb of a tree without the need for complex mounting hardware or tools.
Pros
High quality cedar wood used in the construction
Simple mounting on a tree
The use of cedar wood and the hanging design blend well with the outdoor environment, providing an attractive addition to the outdoor space
Cons
Some users might not have suitable trees or branches to hang the birdhouse, which could limit their options for installation
---
4. Kettle Moraine Recycled Nest Box for Wrens & Chickadees
All-Weather Option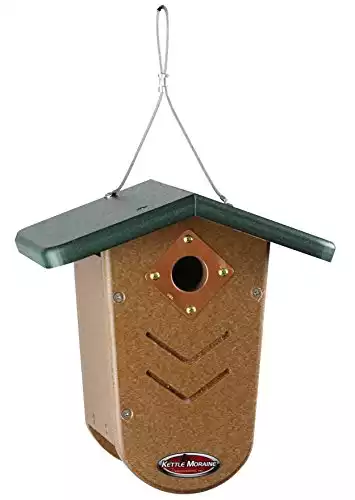 The Kettle Moraine nest box for wrens is made in the USA from recycled milk jugs and stainless steel screws. It features an attractive copper portal around the entrance hole. This design not only adds to its visual appeal but also serves as a deterrent for predators, helping to keep the nesting birds and their young safe.
The bird house provides excellent drainage and ventilation features. Proper drainage ensures that moisture and water do not accumulate inside the nesting box, while good ventilation helps maintain a comfortable and healthy nesting environment.
It's designed for easy cleaning with a side opening. This feature allows users to access the interior easily, making maintenance and cleaning after the nesting season a simple task.
This option comes ready to hang straight from the box, offering users a hassle-free installation process.
Pros
The copper portal helps deter predators
The side opening for easy cleaning is a convenient feature
The flexibility to hang the bird house with the stainless steel cable or post-mount it from the rear gives users versatility in choosing the best location for attracting wrens
Cons
Relatively higher-priced compared to other bird house options on this list
---
5. Stokes Select Wren & Chickadee Nesting Bird House
Predator-Proof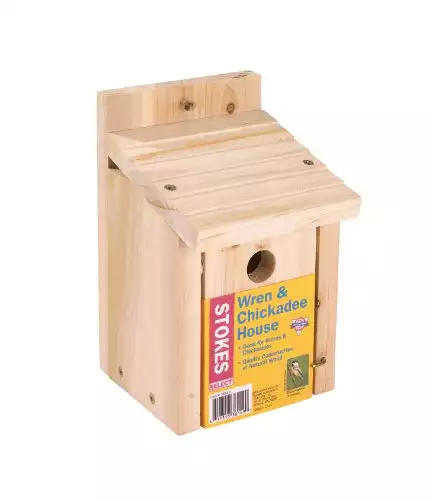 The Stokes Select bird house offers several great features that make it an attractive choice for birdwatchers and bird enthusiasts.
Handcrafted with quality natural wood materials, the bird house is suitable for various bird species, including wrens, bluebirds, tree swallows, titmice, chickadees, and nuthatches. The bird house is equipped with predator guards around the entrance hole and a lockable front door.
The built-in ventilation and drainage features are important for maintaining a comfortable and dry nesting environment for the birds.
The built-in steps on the inside of the front door provide a means for baby birds to climb up when they are ready to leave the nest. This feature facilitates the fledglings' ability to exit the nesting box safely and encourages their successful transition to the outside world.
The inclusion of mounting hardware simplifies the installation process for users, allowing them to easily set up the bird house in their desired location.
Pros
Presence of predator guards around the entrance hole and the lockable front door
The attention to detail in the craftsmanship is very good
Inclusion of built-in steps on the inside of the front door, which help fledglings climb out of the nest safely when they are ready to leave
Cons
In some cases, users might experience issues with the locking mechanism of the front door
---
What is the Best Bird house for Wrens?
The best wren bird house has a hole small enough for a wren to enter and no other bird species, such as sparrows. It must be small enough to keep the eggs nice and warm, and the landing surface must be at least 4 inches below the entry hole. The entrance hold for the wrens bird house should be approximately 1 and 1/8″ wide in diameter to prevent other songbird species from using it.
Wrens are cavity-dwelling small birds that make their nests in rotted-out trees (instead of on tree branches) or the old nests of woodpeckers. They prefer nesting locations that are completely enclosed to keep their eggs nice and protected. Therefore, opt for a bird house that provides ultimate protection.
Do wren bird houses need a perch?
Opt for a bird house without a perch. Songbirds building nests inside a cavity hang off the opening side and don't require a perch to enter.
Bird houses with perches provide an easy entry for predators to gain to those little birds. Some wrens won't even consider your bird house if it has an exterior perch.
Where to Place a Wren Bird house?
These wild birds build nests no less than 4 feet off the ground and up-to 30 feet high. Height placement is critical because if it's too low, wrens will not use it, or worse yet- they'll become the victims of hungry predators.
It's best to hang your wren nesting box safely high-up and near food sources. While wrens typically nest in secure places in trees, they don't mind a hanging birdhouse that sways in the breeze.
The best placement for nesting boxes is on a pole, along the side of your house, hanging from a tree branch or a fence. Give wrens plenty of places to hide and search for food, and keep nesting boxes away from high-traffic areas in your backyard.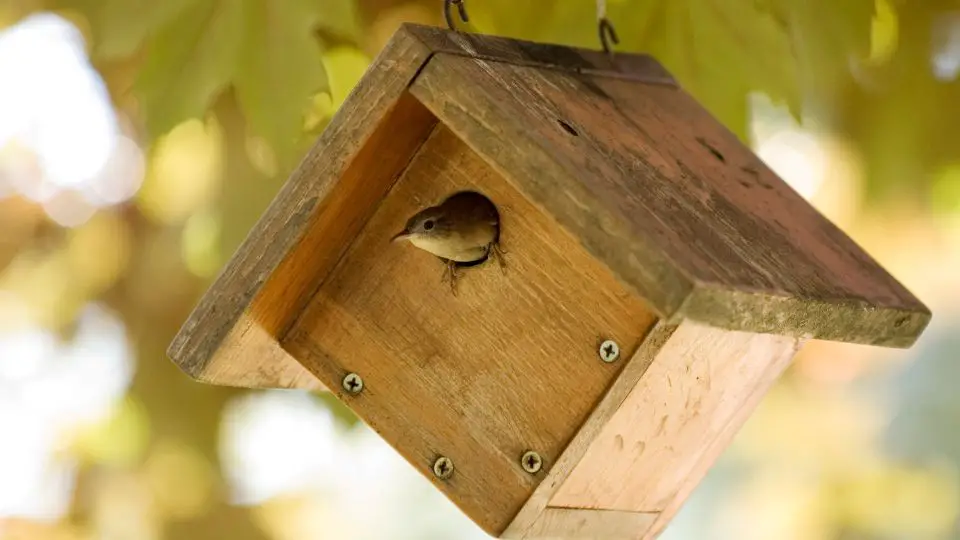 How to Tell if a Wren has Nested in Your Nesting Box?
If you notice any activity outside your nesting box, your local wrens are furiously building a nest for their eggs. Wrens start their nest building process by bringing nesting materials such as grass, leaves, moss, animal hair, and other soft materials around and into the nesting box. This little birds are quite industrious and their building their nest typically takes around a week.
Once the nest is complete, the female wren lays one egg daily. After laying her brood (typically consisting of 5-6 eggs), she incubates the nest for 12-16 days while the male wren brings her food. To ensure that a wren uses your birdhouse, it's best to keep your distance. If you hover too closely, it could scare wrens away.
Tips on Building a DIY Wooden Bird house
Making your nesting box at home is a fun DIY project. Don't worry; as long as you follow these simple guidelines, it's easy! Find an easy-to-follow nest box plan, or follow these simple tips.
Pick a Suitable Building Material
Wrens are attracted to natural wood. While painted bird houses look adorable, your local wrens won't care for your paint job and may not use your nesting box.
Opt for wood like red cedar, plywood, or redwood that's decay-resistant. Don't know what type of wood is decay-resistant? The wood used for building exterior decking is an excellent choice!
Carve the Right Size Entry Hole
The measurements require a 1 1/8 to 1 1/2 inch hole – no more and no less. While house wrens can utilize larger entrance holes- so can sparrows, purple martins, and finches! Ensure that your hole is the right size to invite house wrens and only house wrens.
Make Sure it's the Right Size
Your bird house needs to be large enough to fit a wren nest but not too big that it won't keep the eggs warm. Bigger is not better! The perfect dimensions are 4 inches long and 4 inches wide.
The Depth of Your Bird house Is Also Important
The floor of your nesting box must be at least 3 inches below the entry hole. Ensuring ample space between the entrance hole and the base keeps the eggs nice and protected from predators.
Even if a predator manages to reach the entrance hole, it's too small to step inside and too deep to reach inside for a snack.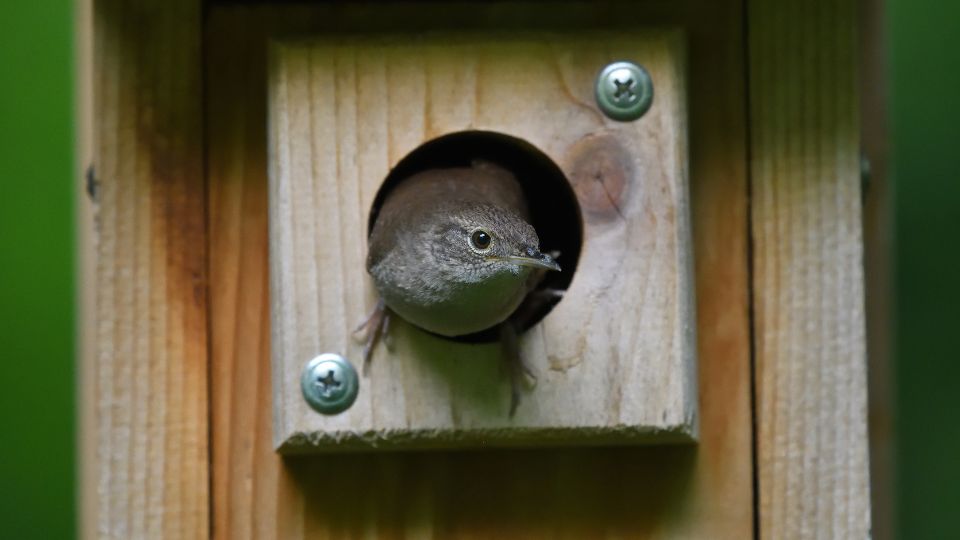 What's the Difference between a Wren Nesting box and a Bluebird Nesting Box?
Bluebirds and house wrens have virtually identical nesting boxes. Both boxes are the same size, and the entrance hole is big enough for bluebirds and wrens but not larger songbirds such as sparrows.
The downside to their shared spaces is that house wrens will not share. They are highly territorial birds and often rip out bluebird nests in favor of their nests.
To attract bluebirds and wrens to your backyard bird houses, you need to get a little inventive. Make sure you place your bird houses far apart to prevent competition, and always place wren boxes closer to heavily wooded areas. The two can live harmoniously, but it requires a little extra effort!
How to Attract Wrens to Your Nesting Box?
Sometimes, if you build it, they don't come. If you find your new nesting box sitting vacant during the breeding season, there are some quick tips to make your backyard the talk of the wren-town.
✔ Make sure they have access to food and water
The standard songbird blend won't do. To get wrens buzzing about your backyard space, place peanut feeders and suet cakes for a tasty treat wrens can't resist.
✔ Clean out your nesting box once a year
It's super important to clean out your nesting boxes at least once a year. Cleaning your boxes in autumn is ideal because that's when the breeding season is likely over. Remove old nests, use a hose to remove caked-on gunk and debris, and wait for the next breeding season to roll around.
✔ Keep your backyard space free of predators
Often, wrens avoid nesting boxes because they're too close to potential danger. Make sure you place your nesting box in a less-traveled area of your yard and provide plenty of local shelter for wrens to hide.
✔ Patience is Key
It may take a season (or two!) for local wrens to find your nesting box, but be patient, Keep your boxes clean, ensure abundant food and water sources, and the wrens will come!
What to read next: What Does A Wren Sound Like?